Modular Leach Drain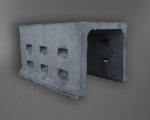 Perth Cement Products
Modular Leach Drain A modular leach drain provides the ability for modular construction of a leach drain for effluent disposal. With both the end and body (unit) modularised the leach drain can be constructed to shire specification instead of a fixed length. Please check the requirements of your shire to ensure that you are getting the correct products as per regulation.
Made with concrete that has been tested to ensure product quality by licensed testers, this product satisfies Australian Standard 1012. This product has been recently improved to feature louvre slots and stronger reinforcement.
Phone Enquiries: 08 9356 7700
---
0

CMLDU

20

Price: $110.00

ex (GST)

In stock! Order now!

1

CMLDE

10

Price: $19.09

ex (GST)

In stock! Order now!

LOADING