Storm Mate Channel Supplier
However, if you just need a driveway drainage system for general applications, you should opt for Storm Mate channels. All the products have pedestrian safe heel guard grate, making the channel drain superb for areas with vehicle traffic.
100% manufactured from recycled materials
Slimline drainage for general applications
Pedestrian safe heel guard grate suitable for vehicle traffic areas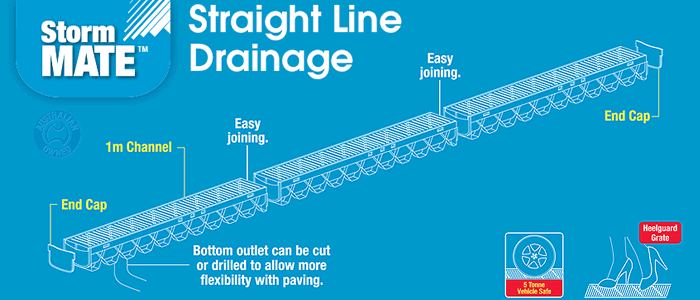 Comparing Storm Mate Channels Products
The 1m channel usually makes a straight-line drainage along driveways. The brand new concrete tape will always protect your surface-water grate as you pour the concrete. The tape matches the channel width, and as much it is easy to apply and remove, it doesn't leave any sticky residue. Therefore, your system will stay clean and protected at all times.
The leaf guard atrium is very sturdy and durable. The leaf guard is very useful as it can be used to prevent leaves and debris from entering driveway drainage systems.
We highly recommend downloading the Storm Mate Specifications PDF for free here.
0

RSMCG1MGPPBL

40

Price: $61.92

ex (GST)

In stock! Order now!

1

RSMCANDG1MPBL

30

Price: $16.52

ex (GST)

In stock! Order now!

2

RSMCANDG1MST

21

Price: $63.72

ex (GST)

In stock! Order now!

3

RSMCANDG1MGS

20

Price: $22.49

ex (GST)

In stock! Order now!

4

RSMAEC

10

Price: $3.57

ex (GST)

In stock! Order now!

LOADING